Safe Payment
Secure SSL Payments.
We accept Paypal, Visa, Mastercard & American Express.
handmade
High quality materials and products.
Designed with love in Australia. Made with care in USA. Europe & Asia.
Product Details
This cosmic Psy Art is called Travelling the Multiverse.
This Psy Art represents the infinite dimensions and layers of our Multiverse and celebrates our ability to journey through them. Embark on your own journey through this artwork and discover worlds in all dimensions and layers of our infinite existence.
This Psychedelic Wall Tapestry is available in different sizes and is created sustainably using 40% Recycled Polyester. By purchasing this tapestry you are helping reduce plastic waste from the Atlantic Ocean. This  Psychedelic Wall Tapestry is also available as a high quality art print/poster and on canvas.
* All artworks are totally original and unique, made with love and positive intentions.
* It is easy to carry, display and it is washable in cold water.
* It can be hung on metal, rod, wooden dowel or fishing line, or you can invisibly pin it.
* There are bottom and top pockets to pass a stick through for easy hanging.
* You can play with different lights to give more power and effect to the image. A normal spotlight will enhance the center of the picture and uplift the colors.
* For an amazing effect you can project an LED fading light on this tapestry and it will give movement to the image.
* All my artwork, tapestries, cushions and clothing is hand crafted, my products are not mass produced.
* We will provide you with a tracking number for your order and will keep you informed of order progress.
*The watermark, copyright texts will not be visible on purchased print.
Customer Reviews
Really bright and crisp, brings a lot of life and vibrance to the room. Whereas others, such as "gates of Atlantis", have many different places to explore with your attention, this one is a little different in that you find yourself mainly just staring at the center. After a little while of staring with relaxed gaze it really starts coming to life. The center shape in this is impossibly intricate. The print is just as clear and stunning as the digital image, which I find super impressive.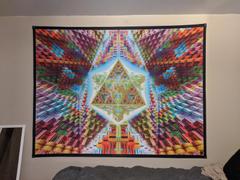 09/20/2020
Mark D.
United States
multiverse
very good detail for paint on fabric.
With its lively colours, this wall hanging creates a very pleasant atmosphere. It also feels like you can dive right into it when you're standing in front of it.
This Tapestry is the main focal point above my TV and has brought SO much brilliance and light vibes to my house EVERYTHING you do is PERFECT
Psy Art | Psychedelic Wall Tapestry | Travelling The Multiverse