Safe Payment
Secure SSL Payments.
We accept Paypal, Visa, Mastercard & American Express.
handmade
High quality materials and products.
Designed with love in Australia. Made with care in USA. Europe & Asia.
Product Details
This Inspirational Tapestry is called Gratitude Trust Abundance.
The Uplift Series focus on 3 Words / Essences to bring you the Frequency and Vibration of a specific aspect of our Inner Power.
It is the perfect piece of Spiritual Art to meditate on and bring good energy to a sacred space.
This Inspirational Tapestry is sized 30 cm x 150 cm which is 12 x 60 inches and is created sustainably using 40% Recycled Polyester. By purchasing this Spiritual Art you are helping reduce plastic waste from the Atlantic Ocean.
* All artworks are totally original and unique, made with love and positive intentions.
* It is easy to carry, display and it is washable in cold water.

* It can be hung on metal, rod, wooden dowel or fishing line, or you can invisibly pin it.

* There are bottom and top pockets to pass a stick through for easy hanging.

* All my artwork and tapestries are hand crafted, they are not mass produced.
* We will provide you with a tracking number for your order and will keep you informed of order progress.

*The watermark, copyright texts will not be visible on purchased print.


Customer Reviews
02/22/2021
RACHEL

Australia
INSPIRATIONAL TAPESTRY - GRATITUDE TRUST ABUNDANCE
This print is so beautiful .. Looks amazing in massage room. Looking forward to purchasing matching one in this series soon. Its great having the pockets already in tapestry so can hang easily up. Will say though that picture shown with pockets make tapestry appear thicker than actually is so was little surprised when saw how thin material is. It doesnt really make a difference though as it still looks stunning on wall. Beautiful to look at. This one did take longer to be put in mail and sent than other items i purchased at same time. but worth the wait..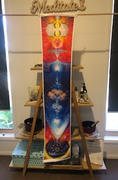 Inspirational Tapestry | Spiritual Art | Gratitude Trust Abundance