Safe Payment
Secure SSL Payments.
We accept Paypal, Visa, Mastercard & American Express.
handmade
High quality materials and products.
Designed with love in Australia. Made with care in USA. Europe & Asia.
Product Details
THIS IS A PRE-ORDER PRODUCT. ITEMS WILL COMMENCE SHIPPING AFTER FEB 8TH
THE PRICE OF THIS PRODUCT INCLUDES FREE GLOBAL SHIPPING
This Round Beach Towel is perfect for the beach or as a camping towel and can also be used for decoration and meditation. These fringe beach towels are a perfect Thanksgiving or Xmas gift, especially for those who love festivals, yoga, meditation, exercise or camping. Our large round beach blankets feature a mandala or unique art work by French visionary artist Aurelien Pumayana Floret.
About the Artwork Featured on this Round Beach Towel:
This Psychedelic Artwork is called The Gates of Atlantis celebrating the magical, super conscious realm of Atlantis. It is full of symbols and sacred geometry.
H.G.Wells once said There is magic in names and the mightiest among these words of magic is Atlantis it is as if this vision of a lost culture touched the most hidden thought of our soul.

Atlantis to me is a magical place and I feel it in all its glory. It is alive, an etheric temple of Light where everything is connected and breathes love, light and life. This artwork is full of symbols and codes, Sacred Geometry, Crystals, Devas, Doors, Keys. and you will discover so much more when you take the time to really dive into the artwork.
This artwork is also available as a high quality tapestry / wall hanging, as an Art Print and also on Canvas.
Large Round Beach Blankets Additional Details
Our Fringe Beach Towels are made from premium quality woven microfiber which makes them lightweight, absorbent and quick drying. All our round beach towels are machine washable and soft to the touch.
* Sizing: 59 inches / 150cm in diameter
* Designed in Australia, made with care in Asia
* Premium quality microfiber fabric
* Super lightweight material perfect for yoga, gym, pool, or camping
* Folds down to small size which makes it perfect for travelling and easily storable
* White tassels create a fringe beach towel
* All artworks are totally original and unique, made with love and positive intentions
* All my artwork, tapestries, cushions, towels and clothing are handcrafted, my products are not mass produced
* We will provide you with a tracking number for your order and will keep you informed of order progress
*The watermark, copyright texts will not be visible on purchased print
Customer Reviews
01/24/2021
Catherine B.

France
The Gates of Atlantis
Bonjour Aurélien, I finally gifted my healing centre The Gates of Atlantis at this very moment where this unprecedented year is ending. The Gates of Atlantis have been activated yesterday in my healing centre. We immersed into its powerful Sacred geometry elements playing the Cristal Bowls and Marmit'om sending healings, our hearts entering into Resonance with them and Carmel Glenane's book ( I'm one of her students) The Final Secret. Happy festive season in beautiful Noosa, be blessed, gratitude for your lovework!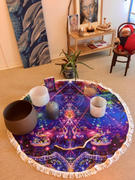 PRE ORDER Psychedelic Beach Blanket | Large Round Towel | Gates of Atlantis